Macho Products Inc
Macho offers many options for apparel and product

customization.
Custom products are a great way to showcase or advertise your brand, creativity or concept. For 35 years, Macho has been offering custom printed apparel, uniforms, gear and other custom print media to martial arts schools.We accept both small and large jobs. Some of our services have no minimum order requirements.
Click here for more information.

Check this item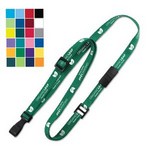 5/8" Adjustable Custom Silkscreen L...
These versatile custom lanyards fit everyone from children to adults! Adjust from 24" to 44" in length. Choose from over a dozen end attachments. Lanyards are made from comfortable ribbed polyester. S...
$0.96 - $2.33
Signature Showrooms